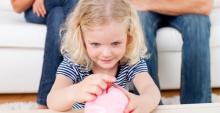 Give your kids the best start in life.
Help encourage your children to save on a regular basis with Mosshill Credit Union.
Juvenile accounts can be opened from birth up to 18 years of age. (child's birth certificate or valid passport are required to open account).
Dividends are paid out to this account at the same rate as other saving accounts.
If you save £1.00 per week until your child's 18th birthday, you will have nearly £1000.00 saved with the dividend being paid in to the account each year.
*The next of kin will remain responsible for the juvenile account until the junior saver is 18 years of age.
*Only the next of kin can access the account until such time that the juvenile saver turns 18 years old, where the account will covert to adult membership. At this stage all funds in the account become the property of the new adult member and all services and products. Loans are only available to members aged 18 and over.